Design your own cycling kit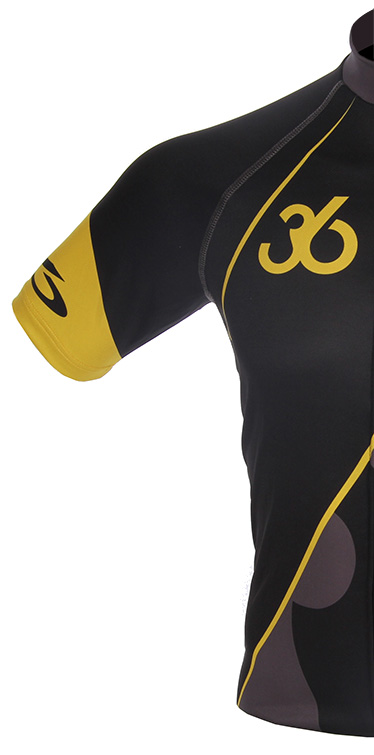 As it speaks for itself: cycling wear has to be high end quality, recognisable and distinctive to give you the best feeling on the bike, but also represent yourself as good as possible.
Customized cycling wear to represent a team, a company or just a kit for yourself. Details is what it's all about. Our USP's are we not only have the highest quality of materials, and the best fit, we also want it to look amazing! Because having you riding in an appealing design makes you a cooperative ambassador.
Who's the designer?
We understand it's not easy for everyone to make an appealing design. When that's the case our design team can offer you some advice, like how to use colours on strategic places, the position of the logo's or measurements.
When it's not possible for you to make your own design at all, our design team is there to give it their design magic.
When you have a design ready we will always do a check-up. We make sure the design you have in mind is suitable to print on the fabrics to make bike wear. When we think some adjustments in the design are needed we will advise you in the best way. We are more than willing to create the best design and kit that is possible.
Despite we have a high standard of quality, our prices are very acceptable and the delivery times are short, in the world of producing customized cycling wear.
What are the options when designing cycling wear? 
To process to sublimate/ print cycling wear is that much developed, almost everything you can think off is possible. Every colour thinkable and most of the designs we are able to print. 
We are more than willing to have a look at your ideas, and to fulfil your wishes, with or without some help of our qualified designers.
Would you rather give us the assignment to create you an amazing design? We would love to! 36 cycling is a company full of passion and will translate this to the designs of the cycling wear we create.
When it comes to details we always ask you to hand in your company styles in PMS colouring and Logo's in vector files. This is needed to get the highest quality of printing, to fulfil your expectations. If you're not sure about anything, no problem! We are here to help you out.
Lots of key numbered companies are equipped by 36 cycling. Further examples are the pro-cycling teams, cycling clubs and tour clubs in Europe, who received their kits within the time they needed it! That's also a quality in this branch! On time delivery!